Play Mission
Learn about all of the ways dolphins play, then do it yourself!
Submit on or before July 31st to earn your free Mission Kit!
To Play is to have fun and use your imagination to do things you enjoy! We know that the superpower of Play is important for humans, but did you know it's important for dolphins, too?
Step 1: Learn about dolphins and three different types of Play!
Social Play

For dolphins, social play involves other dolphins or people! This type of play is important because it strengthens social bonds and helps build relationships.

Examples for dolphins: chasing each other, playing ball, giving rides to humans, flipping together

Physical Play

Physical Play is important because it encourages exercise and helps dolphins (and us) stay healthy!

Examples for dolphins: flipping, somersaults, swimming against currents, beaching

Natural Play

Natural play is when the dolphins (or humans) have fun with things in their natural environment! For dolphins, natural play encourages problem solving and provides tactile stimulation.

Examples for dolphins: blowing bubbles, making bubble rings, tossing fish or seaweed

Want to learn more?

This is an awesome video all about dolphins by National Geographic Kids!

Watch Video
Step 2: Play like a dolphin!
We have made a list of so many ways you can play like dolphins do! Tap the button below to see and/or download the list!
Open PDF
Step 3: Keep this list of ways to play like a dolphin handy, and invite others to play, too!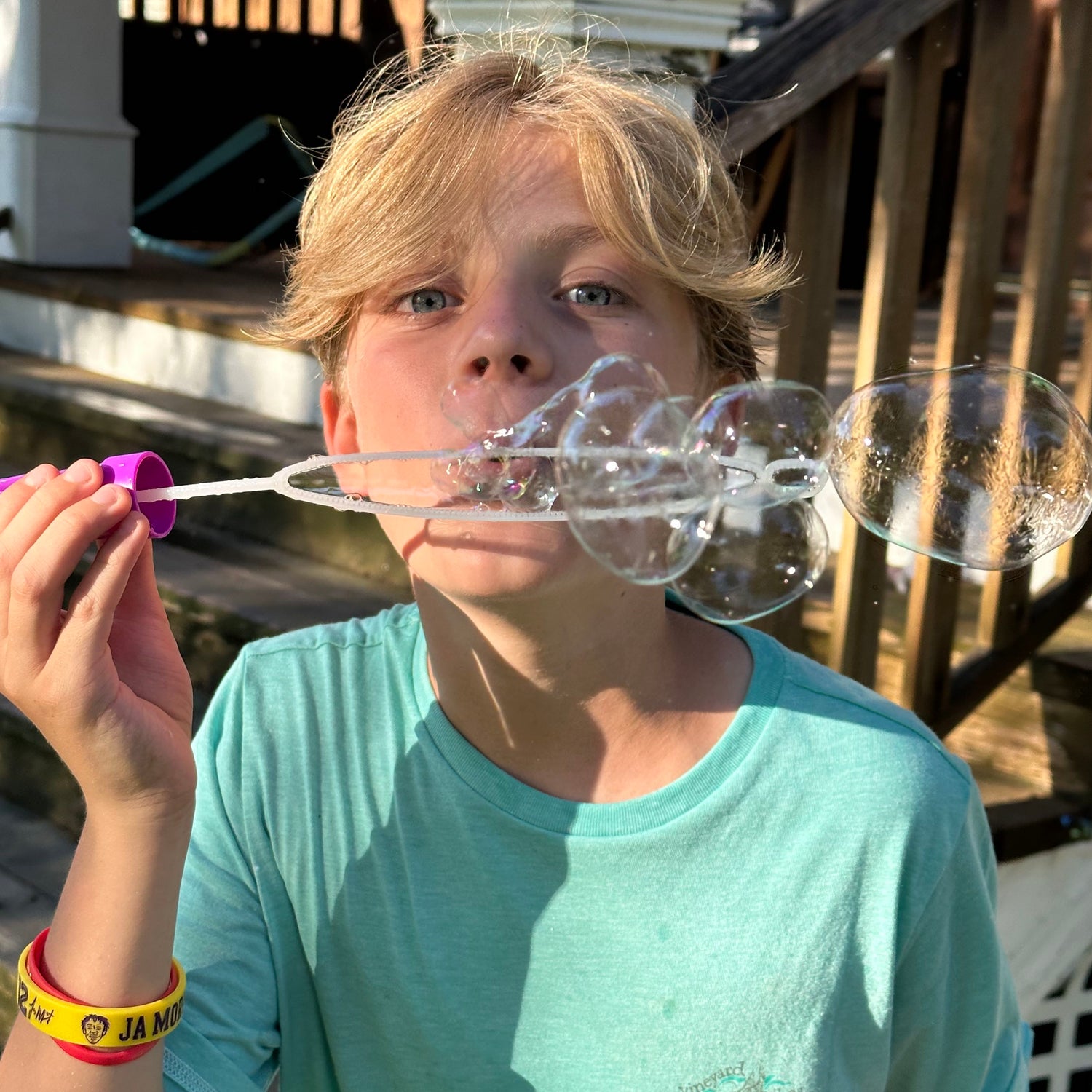 Step 4: Take & post a video or photo!
Don't forget to wear your Cape! Make sure to tag us @TinySuperheroes and #PlayMission. Our private Facebook group is a great place to post.
Go to Facebook Group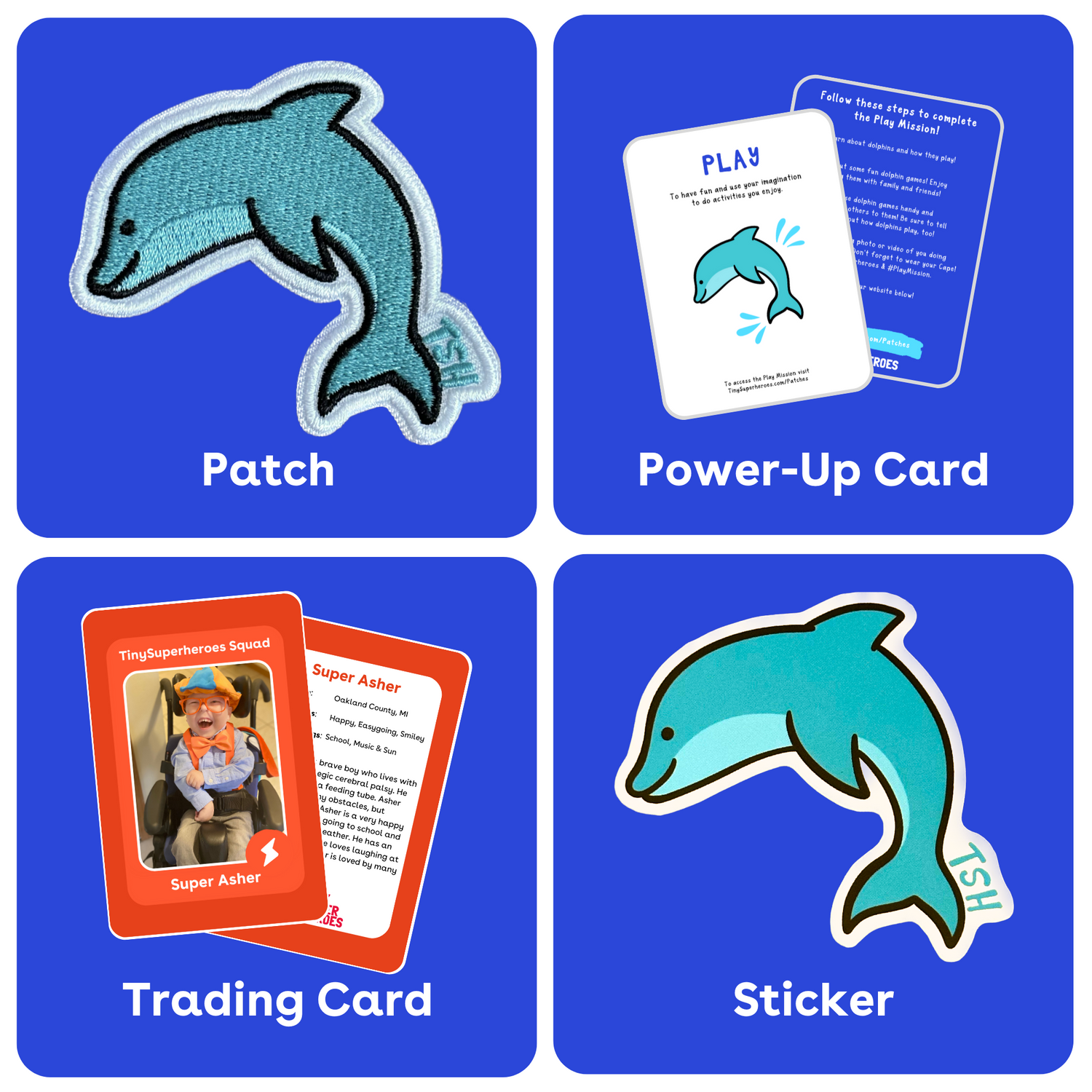 Step 5: Report to HQ
This Mission Kit was free in July 2031. We would still love for you to submit your Mission so we can see your superpowers in action, but you will not receive a claim code for this Mission Kit. It is available in the Shop if you'd like to purchase it.
Submit Mission
Note to Grown-Ups
You have our full permission to adapt any and every TinySuperheroes Mission in any way that is better suited for your TinySuperhero! In fact, when you do, share it on the Facebook Group to give other families ideas as well!
TinySuperheroes Squad in Action!
Super DJ

"This mission really helped encourage us to get back in the water! DJ had emergency tracheostomy surgery in April. This was his first time under and in water since! Without this mission, we might still be waiting for his new shower chair to arrive many months down the road. Big step for both of us. Thank You!"

Super Breelynn and Sidekick Emerson

"Super Breelynn and sidekick Emerson absolutely love to play. Especially with each other. They are very close and love each so much. Water play is their fav. Soo of course this was the Perfect Activity for this months mission!"

Super Eli

"This was Eli's favorite mission to date! He splashed in the water, practiced pouring with a bucket, and tested what would sink and float. After he dried off, we read a book about dolphins."

Super Nora

"This one was easy. We love the ocean, dolphins and playing. Nora enjoyed splashing in her pool, doing bubbles, swinging and playing with her puppies and brother!"
Play Mission July 2023 (Dolphin)
Regular price
$0.00 CAD
Sale price
$14.00 CAD
Unit price
per
Sale
Sold out
View full details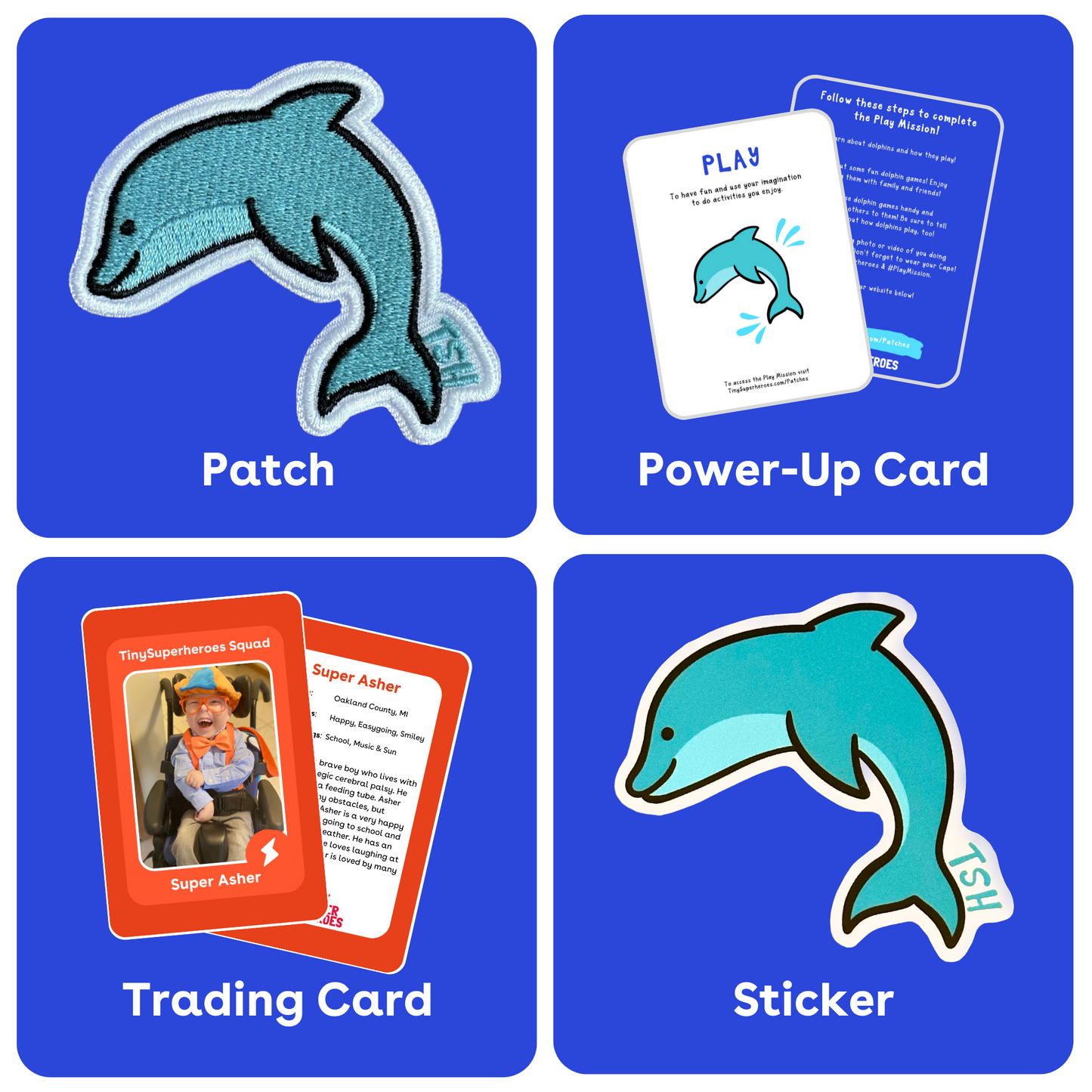 Need help? Send us a message!