Swipe to see the Mission Kit items that you earn for FREE when completing this mission during November 2022!
Note to Grown-Ups
Please feel free to adapt ALL Missions in any way that will best serve your TinySuperhero! Grown-Ups are encouraged to help, and we LOVE when Sidekick Siblings particpate. (Yes, Sidekicks can earn patches and get their own official Cape too!)
Follow these 5 steps to Complete the Gratitude Mission!
Step 1: Download our Gratitude Journal Template!
You can print ours or use it as a template to make your own. (GROWN UPS: For best results, print 4 pages per sheet, then cut to make a little booklet!)
Download Template
Step 2: Write or draw one thing you are grateful for!
Example: I am grateful for my TinySuperheroes Squad!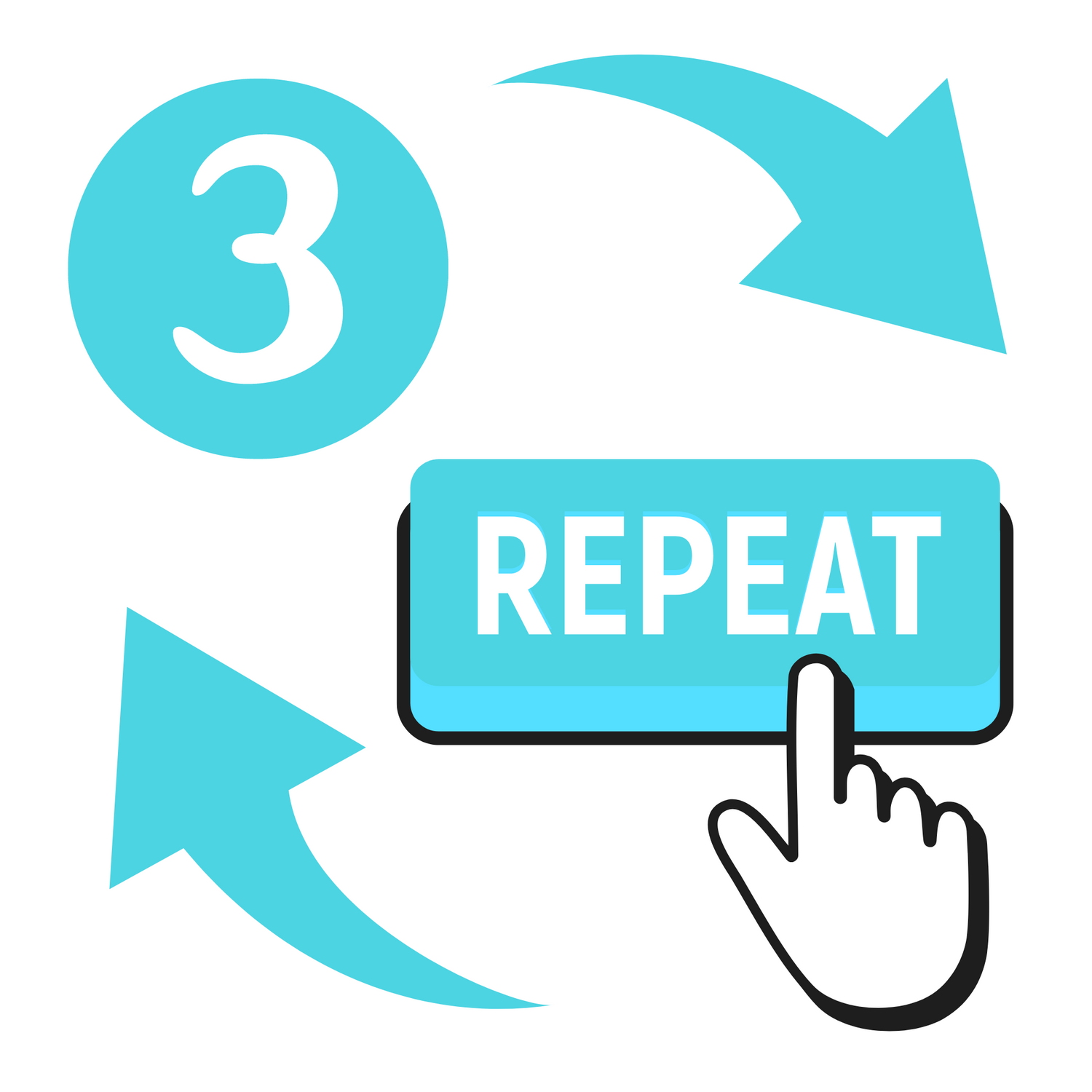 Step 3: Repeat this everyday!
Repetition is important. This is how you get the maximum benefits from your superpower of gratitude.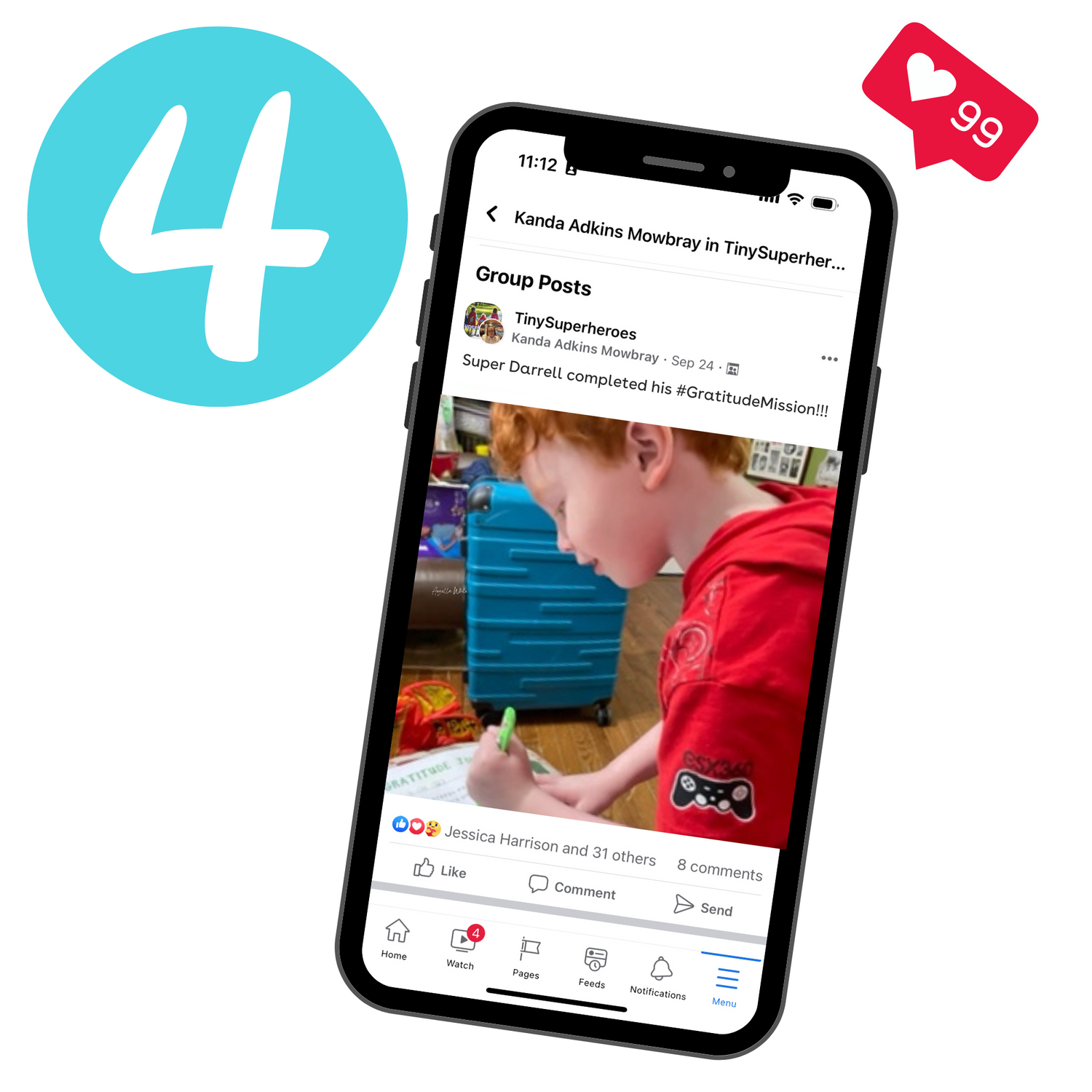 Step 4: Take and Post a picture of you completing the mission!
Don't forget to wear your cape! Make sure to tag us @TinySuperheroes and #GratitudeMission. Our private Facebook group is a great place to post. Tap the link below to join! BONUS CHALLENGE: Post a picture every day of what you are grateful for!
Post in TSH Support Group
Step 5: Report to TSHQ!
Submit your Mission by tapping the link below that says "Submit Completed Mission." You will then receive a claim code to redeem your free Mission Kit from our online store!
Submit Completed Mission!
Claim Your Mission Kit!
Note: Due to changing times, in order to keep up with rising costs of the economy, this month we will be charging for shipping. Thank you for supporting our Mission Program.
Gratitude Mission November 2022
Regular price
$10.00 USD
Sale price
$2.50 USD
Unit price
per
Sale
Sold out
Share
View full details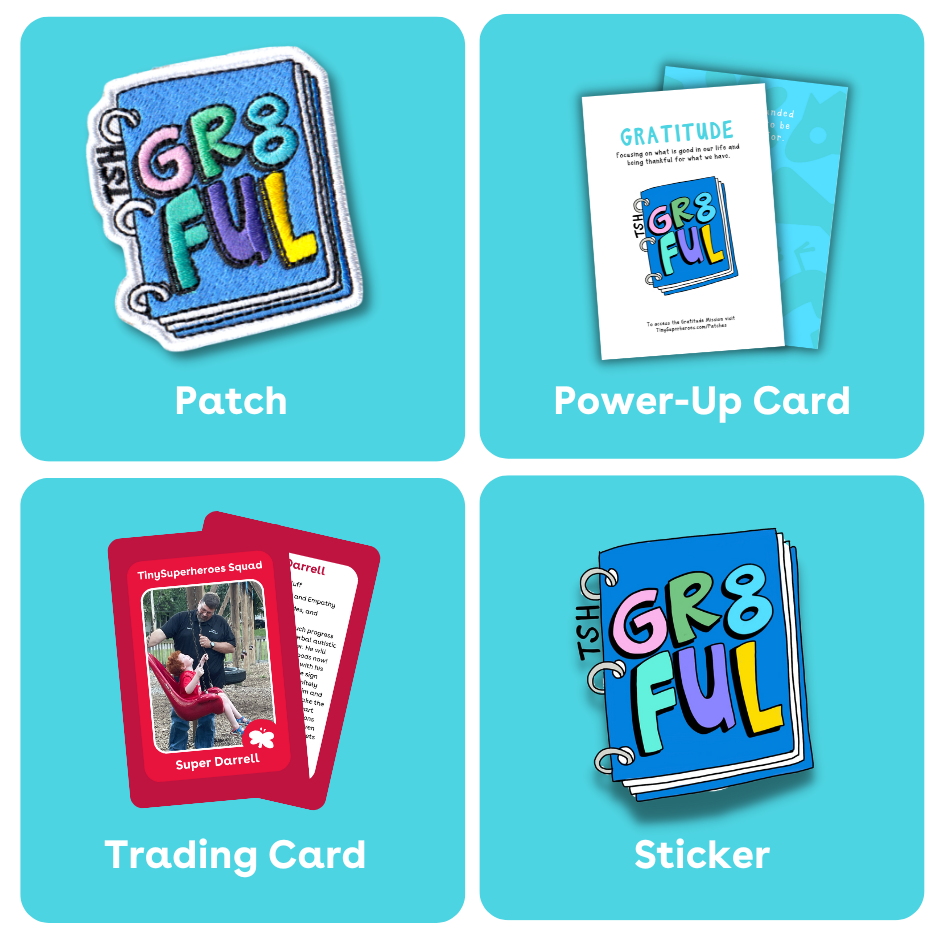 Meet the Featured TinySuperhero: Super Darrell!
The Squad in Action for the Gratitude Mission!
Never miss a Mission! Get TinySuperheroes Updates!
Text "Updates" to Robyn at 314-582-6708 to stay in the loop! Make sure to save her as a contact by clicking the link that we will send you!
Put your Monthly Missions on Autopilot!
Caution: May relieve mom guilt.

Receive the Monthly Mission Kit in your mailbox - every month - without even having to think about it!
This is a recurring $7 charge each month and can be canceled or modified at any time. After your order automatically renews, we will automatically ship that month's Mission Kit & Patch to you.
Sign Up
Need help? Send us a message!